Skip Navigation
Website Accessibility

1930 Fabric Sale here at Fifi's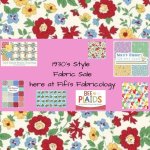 Fifi's Fabricology
Phone 07 5520 3609
1/18 Township Drive, West Burleigh, QLD 4220
Open Mon-Tues-Saturday, 9am-2pm
Wed-Thurs-Friday, 9am-4pm

1930's style fabric

sale
this weekend

at

Fifi's Fabricology

starts saturday 11th March,
ending midnight tuesday 14th march, 2023.

We're taking

25% off the

1930's Style Fabrics


The First Time ever we have put this category on Sale here at Fifi's.
For a long time we did not stock that many but some really cute ranges
have arrived and we couldnt resist any further.
Jump online and check them out today, also keep any eye out on our
social pages for a close up of some of the ranges.
Check them out today.




Simply enter the coupon code

30sale

at the checkout



Jump online and find some real treasures this weekend.
Tap the link below to be directed straight to our 1930's fabric category online.